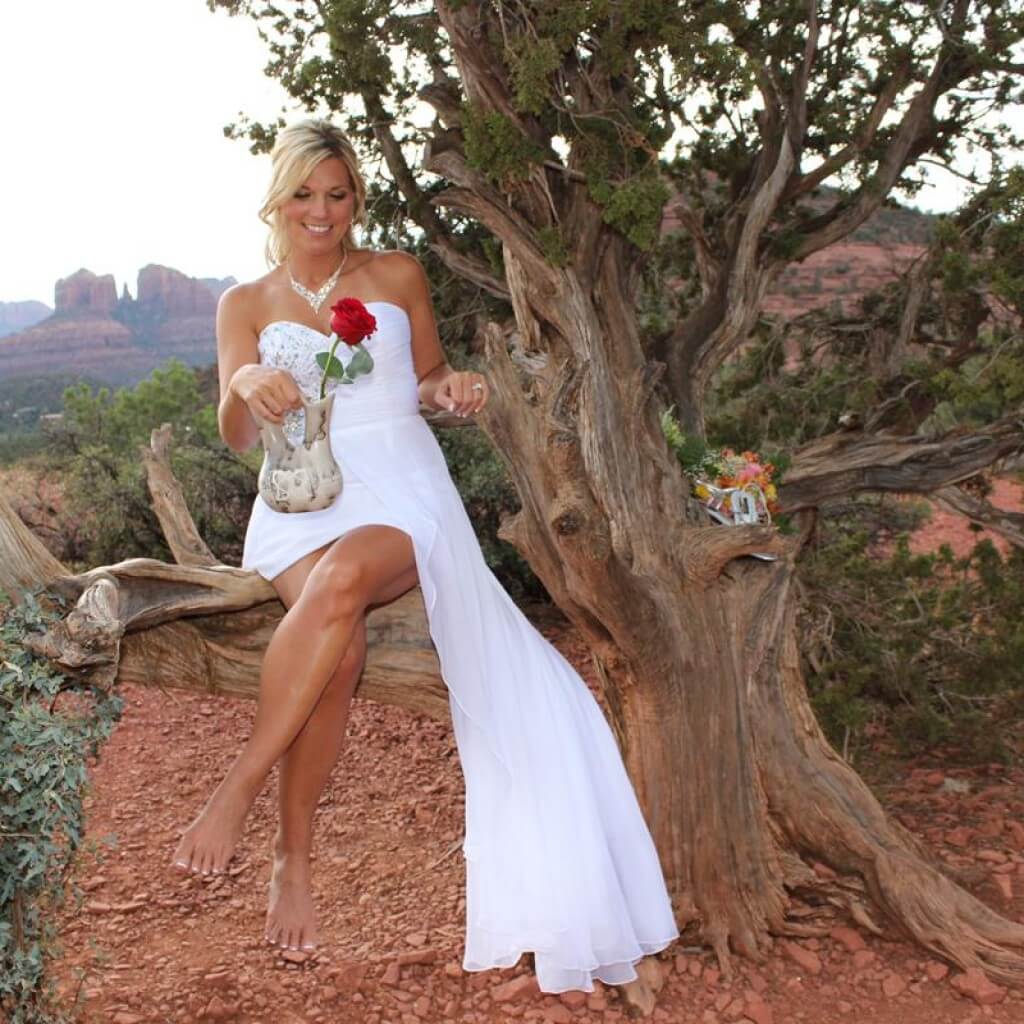 This is our deluxe resort and spa elopement package.
Your Sedona Luxury Elopement Package includes:
An ordained non-denominational minister to perform your ceremony
A wedding ceremony held on the beautiful red rocks of Sedona at the location of your choice
Consultation by email or phone or to create your customized wedding ceremony, written just for you and ranging from traditional to contemporary, reflecting your own personal taste
One of our photographers will take 120+ digital photos. You will receive a DVD of unedited photos in the mail. You can make as many copies as you like. You have 1 hour of photography. All of the beautiful photos on our site and our blog were taken by our talented in-house photographers
a Video Slideshow Keepsake  you will receive a unique and professionally edited slideshow of photos from your ceremony that captures the best moments of your special day.
A beautiful bridal bouquet and a boutonniere for the groom (you choose color only)
Assistance in choosing the perfect Red Rock site for your Ceremony
All witnesses required by law for your Arizona Marriage License
Soul Mates Sedona Red Rock Session –  a powerful Reiki on the Rocks Session with a Couple's Chakra Balancing and Aura Clearing.  Your Red Rock therapist will take you on a gentle hike into the powerful vortex field of Sedona. You will each experience a Reiki sesion on the rocks.  You will assist the therapist by using your own special healing energy on your partner to create a many hands reiki experience. Your therapist will do a chakra balancing and aura clearing on each of you.  Then you will experience a calming and centering Sedona Soul Mates Guided Visualization on the Rocks to prepare you for your new Life Together. (4 hrs)
 All taxes and gratuities
A complimentary Ceremony Planning Packet that will help you to be your best on your Special Day, including recommendations for your hair and make-up needs, musicians, limos, hotels, restaurants, videographer and more
Sedona Luxury Elopement Package – $2,199.
** (You may add a videographer to any package for an additional $660.) **