Sherry L.
May 2019
We just wanted to thank everyone at Sedona Destination Weddings for giving us such a fantastic Wedding on May 19, 2019 at Magic Vista! It was better than we ever imagined! The weather was so perfect. Yana preformed such a beautiful and heartfelt ceremony. Aurora (I think that's her name) gave us such beautiful pictures wedding video. We absolutely love them! We are so grateful to them both and to you all.
Thank again!!
Best regards,
Sherry & Michael
__________________________________________________________________________
Christina R.
5 star rating 5/30/2019
Just wonderful! My husband & I eloped to Sedona from Seattle with Sedona Destination Weddings & the experience was beyond our expectations. Communication was prompt & the coordination for our ceremony was super easy. Reverend Yana performed our ceremony & it was supremely spiritual. She was a beautiful ray of light & we were truly blessed to have had her introduce us into our path as husband & wife. Yana made us believe that nothing mattered more than our love as we exchanged vows & rings at Magic Vista (we still believe that!). Our witness, Annie, was wonderful! She was kind & completely present throughout the ceremony. Annie even held my bouquet for me…which made her my honorary Maid of Honor. Couldn't have asked for anyone better! Nitzia, our photographer & second witness, was out of this world! She gave us a sneak peek of a couple of our photos…both my husband & I were astounded! It was really like Nitzia had captured our essence as a couple in those photos & we can't wait to get our hands on the proofs! It was super windy during our ceremony–it also hailed (in late May!)–but the love & attention that my husband & I received from these women kept us warm (& laughing–we all laughed a lot)! Our experience with SDW was totally magical. Thank you!!
__________________________________________________________________________
Carlton W.
5 star rating 5/25/2019
Excellent experience. It was everything they promised. They made our day very, very special. Akal was exceptional. We highly recommend Sedona Destinations and Akal. We are very thankful to the team At Sedona Destination.
__________________________________________________________________________
Sharon R.
5 star rating 5/24/2019
My husband and I renewed our 30 year wedding vows in Sedona on May 23, 2019. Sedona Destination Weddings was able to coordinate our renewal and provided us with an extensive list of options to make our experience unique. They also selected an amazing photographer who made us feel at ease and took some really great photographs. I can hardly wait to receive them. If you want a stress free, memorable experience, Sedona Destination Weddings is the right choice to make!
__________________________________________________________________________
Mary Ann Damian
April 2019
Thank you and everyone at Sedona Destinations with making my wedding so very special! I loved everyone you sent to be present to create a ceremony that will always be remembered. It felt like you knew exactly who to send to make everything perfect. Now that I'm back home and getting settled I can't wait for the pictures! Our photographer was delightful and I know she took some amazing pictures.
__________________________________________________________________________
Rick Dennison recommends Sedona Destination Weddings.
March 25 at 9:16 PM ·
Our wedding was just beautiful!!!! Our ceremony and photographer worked well together!!! We would recommend Sedona Destinations to everyone. Thanks again.
__________________________________________________________________________
Jackie Rindone recommends Sedona Destination Weddings.
January 20 ·
My husband and I married a month ago, and Sedona Destination Weddings was a joy to work with for the entire process. From inquiring on packages to the ceremony, they were communicative and helpful.
My partner and I were committed to having a low-key ceremony with family and close friends, and the ceremony went perfectly. Sedona Destination Weddings will help you pick a site that accommodates your needs with the size of the group. They also have numerous options for ceremony and vows. My husband is Indian and I am from America, so it was lovely to blend both of our cultures.
If you are looking for a wedding that incorporates the beauty of Sedona, we highly recommend!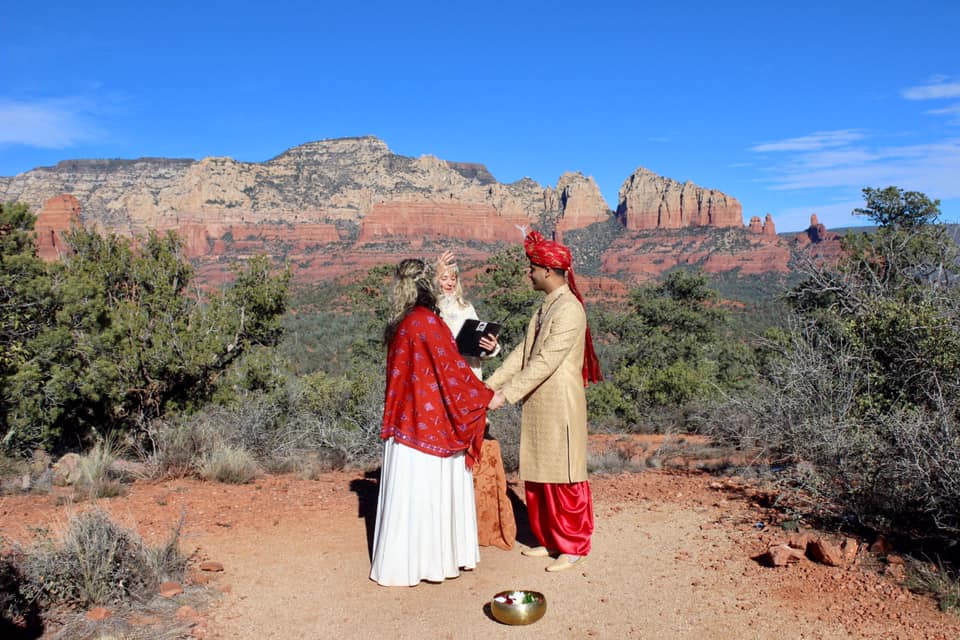 __________________________________________________________________________
Tony F.
Phoenix, AZ
5.0 star rating 12/5/2018
Our experience with Sedona Destination Weddings was simply outstanding, and we thank them for everything they did to make our wedding day the most special day of our lives. Iala and her team were amazing to work with from the moment we contacted them to talk about a wedding package. They were always very responsive to our questions, and Iala was simply amazing to work with when we became worried that the weather would make the original site we selected for the wedding less than optimal. The alternate location she suggested was beautiful and everything came together to make it the perfect moment in time.
Reverend Yana was amazing, and the ceremony was absolutely magical; we could not have asked for a better officiant or a more magical ceremony. The team made sure to take care of everything we needed to make our day memorable and wonderful. They made everything so effortless to the point we didn't have to worry about anything.
We would whole-hardheartedly recommend Sedona Destination Weddings to anyone looking for the perfect Sedona wedding experience. Thank you from the bottom of our hearts and many blessings to all of you!
__________________________________________________________________________
Nate Williams
★★★★★ 2 months ago
Absolutely amazing to work with! Highly recommended if you're planning your Sedona Destination wedding – such a pleasure being a part of your events. Thank you again & until next time!
__________________________________________________________________________
Phyllis Leard recommends Sedona Destination Weddings.
October 9, 2018 ·
Thank you for making our day special. Rev Scot was great and made our ceremony more than we expected..Our photograper Stacy Burk was the very best and we can not wait to see our photos…They all made our moment in time the best for us…Thank you all !!
__________________________________________________________________________
Kerrie K.
Northwest, Las Vegas, NV
5.0 star rating 8/31/2018
Everything from start to finish was a breeze, and our wedding was everything we wanted and more! The site was beautiful, the ceremony absolutely perfect, and the entire wedding team was so professional and helpful and made us feel entirely at ease. We received the pictures yesterday, and WOW, they are fantastic! The colors are so vivid! On a side note, we originally considered a sunset ceremony and were advised that the monsoon season could be a bit unpredictable, so we chose a morning ceremony. Sure enough, it poured later that afternoon! Very thankful we didn't have to trudge through the mud and rain! LOL! The whole experience was entirely stress-free working with them, and I would highly, highly recommend them for a truly unique and beautiful experience that you will remember for a lifetime!!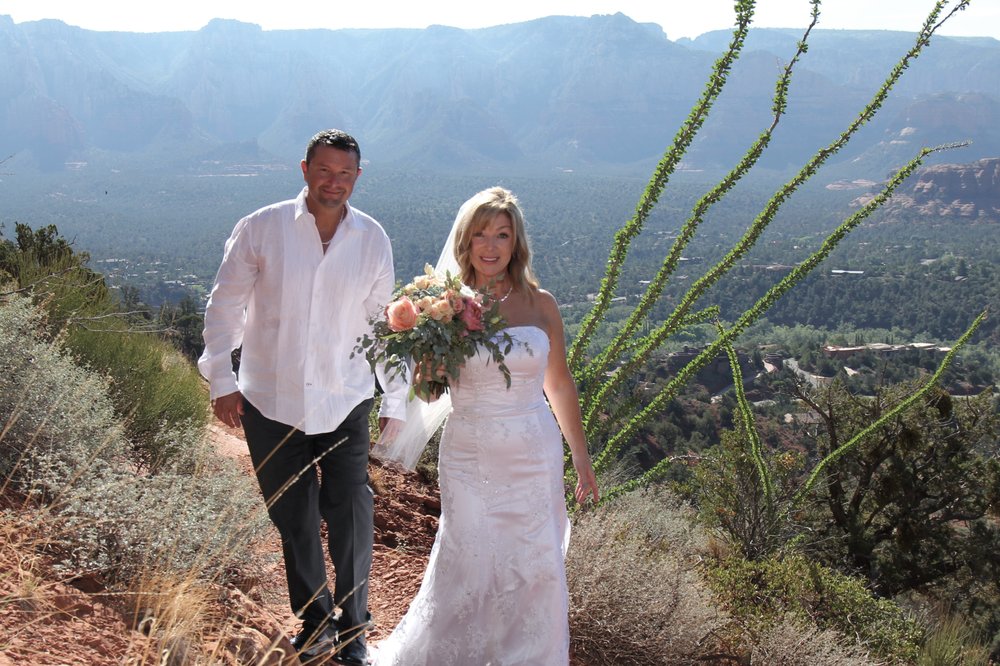 __________________________________________________________________________
Ingrid Fowler
★★★★★ 6 months ago
My NH and I went through this company for our Elopement Commitment Ceremony in Magic Vista and our Officiant was Yana and our photographer was Aurora. I can honestly say it was so much more than I ever imagined it to be. Yana had gorgeous traditions added to the ceremony like placing the rings in sacred water and had so many kind words to say to us. Aurora did such an incredible job with the photos, there were so many beautiful shots and so many fun ones too! We are excited to see them. My representative Jacki was just delightful, they took care of everything and it was all so easy. I would for sure recommend this company to anyone for their elopement! SO STRESS FREE!! 🙂
__________________________________________________________________________
Casey L.
Boston, MA
5.0 star rating 8/24/2018
Amazing experience and I couldn't have chosen a better company or setting for our ceremony. Completely stress-free process working with them to coordinate our elopement in Sedona for August 2018. I reached out to them about a month before our trip to coordinate one of their elopement packages and they easily squeezed us into their schedule at our favorite location. Their provided officiant, witness, and photographer (Yana, Kenyon, and Stacy respectively) were phenomenal.
The photos came out magnificent and the photographer, Stacy, was very talented and knew exactly the right spots to capture the beautiful sunset and mountain back drops in Sedona. We received the photos on CD via mail about a week after the ceremony.
Yana was a magnificent officiant and she truly catered the ceremony to us.
The whole experience was just spectacular and perfect for us. Thank you Sedona Destination Weddings for making our day so special.
Would definitely recommend them for anyone organizing a wedding in the Sedona area.
__________________________________________________________________________
Doreen Carter reviewed Sedona Destination Weddings — 5 star
May 9, 2018 ·
After 20yrs we finally got the wedding we always dreamt of. Words cannot express how grateful we are that we . Thanks to everyone for giving us such a beautiful day! The pictures and Keepsake video were breathtaking as well the the site, Lover's Knoll..
__________________________________________________________________________
Kate M.
North Brookfield, MA
5.0 star rating 4/10/2018
I've wanted to review Sedona Destination Weddings since my wedding last July but could not find the words. I find myself getting the chills as I type.
Nothing seemed to line up for our wedding. We found ourselves beyond stressed and I fell ill so we eloped in Sedona. One of our favorite places in the world.
We eloped in July and arrived a few days early. Everyday we got thunder and lightning between 4-5, the time we were scheduled to marry. The weather called for thunder and lighting when we were to get married and it seemed to be guaranteed.
The contract clearly stated we needed to find an indoor location for the wedding. We were staying at the Hilton and hoped to find a place there. But the devastation of coming to Sedona to marry inside. Argh, we could see bell rock from the window and it taunted us.
We were told the chance of the wedding happening were low, but they would not cancel until last minute. Last minute we did receive a call asking if we were willing to try Huckabee instead of Bell Rock with the notion it may still be canceled. We said yes.
When we arrived at Huckabee it was sprinkling. It was 3 minutes before and no one was there. We felt so anxious. Then everyone arrive. One witness jumped from her car to pray for the clouds to stop. I swear, they did. It's like they froze in place. Our officiant greeted us with Pink Floyd and George Carlin quotes. The other witness predicted our Dosha's to a T, something that actually benefitted us beyond the wedding.
Everything was magic as we eloped. The air, the slight wind, the warmth, the colors, the team we were given. Though we were alone we felt like the world was watching. It felt as though the team knew us. It was perfect.
The moment we finished the rain and lightning began. We are thankful for everything. Sedona Destination Weddings provided a service we refuse to believe we could have received anywhere else in the world. Thank you for the happiest hour of our lives!
I don't know how helpful this review is but I really wanted to express our thanks to Sedona Destination Weddings.
__________________________________________________________________________
Lauren Birth
★★★★★ 10 months ago
My husband, family, and I had a fantastic experience with this company. Of course, I had a lot of questions to ensure the day was perfect. Sedona Destination Weddings always got back to me right away and answered all my questions. At the ceremony, the minister and photographer gave great tips and helped us every step of the way. They recommended the perfect time for the wedding (the lighting was PERFECT). The photographer came up with adorable poses and made sure everyone looked their best for each photo taken. I can't wait to see the pictures!! Our minister was amazing and truly brought the spiritual aspects of Sedona to life. It was the perfect day, and we couldn't have done it without Sedona Destination Weddings!!
Update: Got my photos in little over a week and they were FANTASTIC! The photographer captured our day perfectly! There were so many wonderful photos to choose from. Thanks again Sedona Destination Weddings for an unforgettable wedding day!
__________________________________________________________________________
Janet Holmes reviewed Sedona Destination Weddings — 5 star
July 30, 2017 ·
My husband and I wanted a wedding experience that was spiritual and had the beautiful Sedona scenic mountains for our wedding ceremony site. The initial planning and up to the wedding day was effortless thanks to Iala Jaggs and Sedona Destination Weddings. Reverend Scott gave us the peaceful and meaningful ceremony including playing the native american flute which added a special touch. Our wedding site coordinator was very efficient and kept our little crowd well organized. The photography was amazing and I have already received rave reviews from family and friends I have shared our video keepsake and photographs in which we received promptly after wedding. I have already referred to two of my friends who are planning a Sedona wedding to contact Sedona Destination Weddings as we were so happy we chose them for our special day!
_________________________________________________________________________
Tonya B.
Chandler, AZ
5.0 star rating 10/27/2017
My fiancée and I fell in love with Sedona last year, and when we decided to get married, knew this was the place. I did TONS of research, and kept coming back to the same place.
On a whim, I emailed Iala to see if there was a possibility of a short notice vortex/wedding site tour, to get a feel for WHERE we called to have our ceremony. Within minutes, she responded and we set up a same-day tour.
Our guide arrived promptly, and we set off on our quest for the perfect spot to reveal itself to us. Everything about our tour just "fell into place". There are no words to describe how "right" everything feels, and the guidance that Sue Ellen gave us during our 2 hours together just solidified what we felt to begin with: we would be in good hands with our special day.
We begin our planning today with no anxiety or stress.
We will update after our ceremony, but my gut tells me it will be a day of love, peace and blessings.
UPDATE: We had our wedding on Wednesday and it was everything we imagined. The day, the setting, the peace of it all was perfect.
As we thought 9 months ago…..Sedona Destination Weddings is the way to go.
There was no stress, no ambiguity about what to do or expect, and none of the crazy, last minute detail worrying that robs the bride and groom of peace on their day.
While the pictures our photographer took (I'm embarrassed to say I don't remember her name) aren't done yet, here are just a couple from our family's phones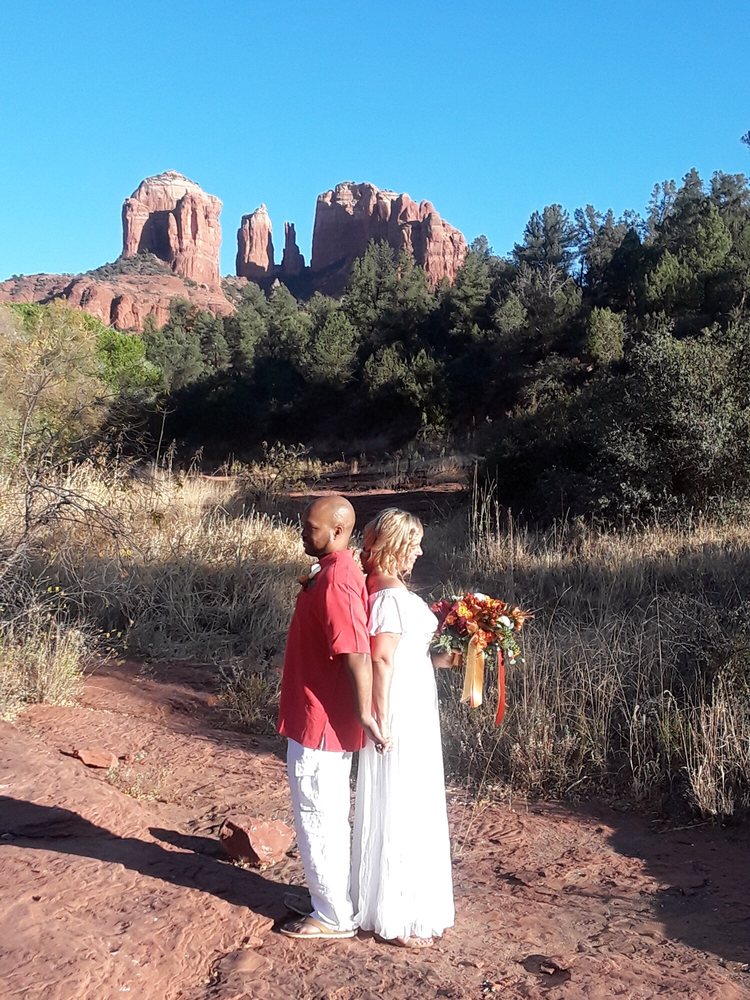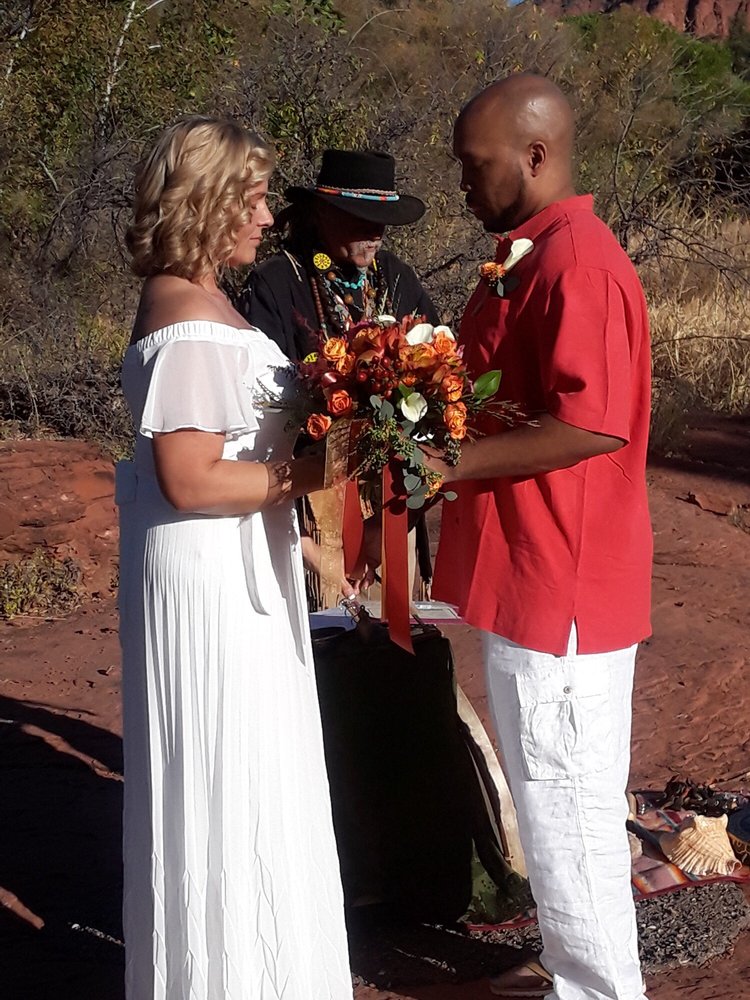 __________________________________________________________________________
Kelly Barnett reviewed Sedona Destination Weddings — 5 star
April 1, 2017 ·
We live in Texas and had never been to Sedona, but after seeing how gorgeous it looked we decided it would be the perfect place to elope to. Only problem was we knew no one there! I found Sedona Destination Weddings through a Google search. I browsed their website and read the reviews before deciding to take a chance with them. About 2 months before the date we wanted to get married we called and got everything set up. We chose the Sweet Sedona elopement package at Red Rock Crossing. The wedding turned out beautifully and we love our photos and video! Thanks for making our dreams come true!
__________________________________________________________________________
Maddie M.
San Rafael, CA
5.0 star rating 1/5/2017
My husband and I eloped with one of Sedona Destination Weddings packages on Dec 30, 2016. We did the Crystal Vortex Package and it was AWESOME. We had such a special and unique experience and I haven't ever heard of a wedding service like it. Our whole crew (Scott, William and Aurora) were so kind, flexible and easy going – particularly since it was just the two of us, our 12 week old baby and our Pomeranian 🙂 we had to improvise a lot through out the ceremony and everyone was so awesome about just making it work!
We received our photos in the mail today and they are lovely! I saw other reviews complaining about the photos, but we were told up front they would be taken by an in-house photographer, not a professional. Our pictures are great! The scenery is beautiful and it captured the essence of our special day. I laughed and cried flipping through the photos. This was such a special day and I wouldn't have had it any other way.
Huge thank you to Iala as well who got us all set up quickly when we booked the ceremony just a few weeks prior to arrival in Sedona! So helpful and kind. Thank you!
__________________________________________________________________________Robert H.
Phoenix, AZ
5.0 star rating 8/10/2016
Amazing from start to finish. My wife and I had been in contact with Iala for months who kept us apprised of all the details. We chose Lovers Knoll and couldn't have been happier. Our officiant was Akal and the Shaman ceremony was beautiful and captured the spirit we were looking for. Both Akal and Scot the photographer recognized our quirky nature and made the ceremony fun, but at the same time never lost sight of the importance of our big day and conducted the ceremony with respect for the old ways and nature which is what we had hoped for. Thanks to everyone. Blessings to all!
__________________________________________________________________________