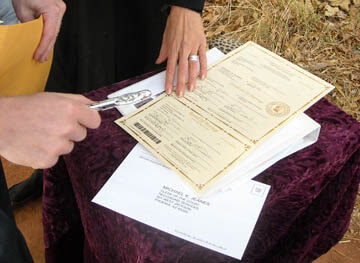 You are responsible for obtaining your marriage license and bringing it to the ceremony.
The good news is that Arizona is a wedding-friendly state. To obtain your Arizona marriage license, here are a few quick details:
No Arizona residency is required.
Couples must appear in person to obtain a license.
There is a $83 fee.  Be sure to get in touch with the Court of Clerk's office before you go for what payment method they accept, their hours, etc. Most take cash or check only.
The marriage license is valid for one year from the date of issue.
There is no waiting period after you obtain your license.
Marriage licenses are usually processed within 15-20 minutes.
Two witnesses (at least eighteen years of age) must "witness" the wedding and sign the marriage license after the ceremony.
For more information, as well as marriage license offices, phone numbers and hours of operation go to: https://www.clerkofcourt.maricopa.gov/records/marriage-licenses-passports/marriage-licenses
If you would like to order your marriage license application online and have it mailed to you (you must live in the United States for this service), please contact: http://www.mohavecourts.com/clerk/mlpage.htm
Call: (928) 753-0713.  This does have a processing time, so check with that before applying to be sure you would receive it in time.
The closest offices to Sedona are listed below. Please note they are only open Monday – Friday from 8 a.m. to 5 p.m. and are closed on weekends and holidays.
Clerk of Superior Court -Verde Valley Judicial District – 2840 N. Common Wealth Dr., Camp Verde, AZ 86322, 928 567-7741
Clerk of Superior Court – Flagstaff, Arizona, 200 N. San Francisco St., Flagstaff, AZ 86001, 928 779-6535
For all other offices see: https://www.clerkofcourt.maricopa.gov/records/marriage-licenses-passports/marriage-licenses