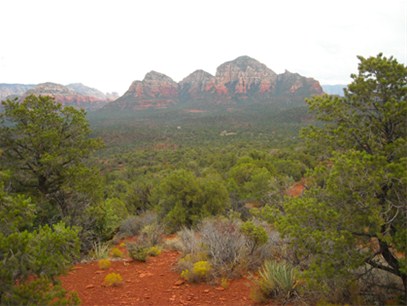 This is a true hidden gem. I found out about Mystic Vista by accident when the Forestry Service kept telling me to check it out. Finally, on my birthday, I took a hike out to this amazing wedding venue. And what a birthday present it was!
It's about a 20- to 25-minute hike, but on your wedding day it might be more fun to rent Jeeps or get a Jeep tour to drive everyone out to this incredible knoll. There is an additional fee for all vendors for this site, due to additional time needed to access it.
It has views of Cockscomb, Doe Mesa, Bear Mountain, Boynton Canyon, Thunder Mountain, Courthouse Butte, Bell Rock and Cathedral Rock.
You are smack dab in the middle of wilderness and in the middle of all these formations. It truly is worth the effort to access it.
This is for small weddings and elopements, but it will work for a bigger adventurous party in Jeeps. An additional fee applies for this site. See all of our Sedona wedding venues.