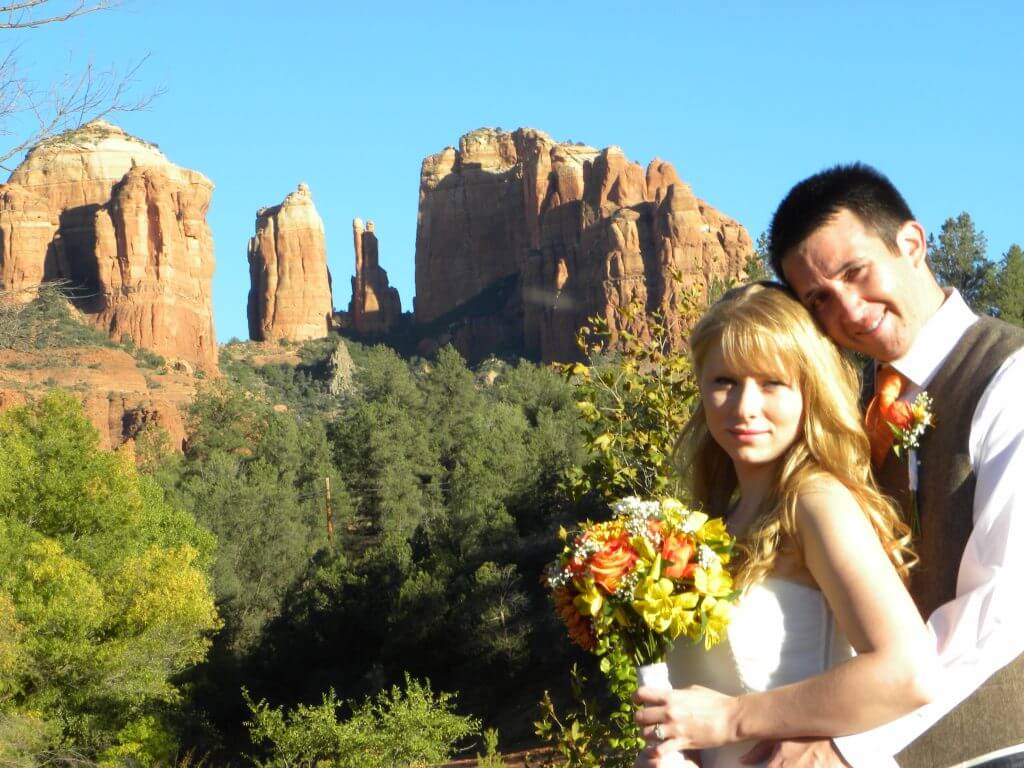 Red Rock Crossing is the second most photographed spot in Arizona after the Grand Canyon.
We hold our wedding ceremonies on the Verde Valley School Road side of Oak Creek. At this site there is a beautiful platform to get married at, which is the optimum site for the best photos.
It is spectacularly beautiful in any season with Oak Creek running through a band of dazzling green at the feet of majestic Cathedral. Mid-March to late November are the best!
The energy here is warm and inviting, very feminine and nurturing. This site is easily accessible.  Weddings larger than elopements require a shuttle service.
Sunsets are great here, and very popular! At that time of the day, we can even capture Cathedral reflected in the waters of Oak Creek.
Access is fairly easy. There is a 500 yard walk on a dirt road and then a small hill–about a 45 degree angle for a fifty foot walk down to the creek.
"I married my best friend at Red Rock Crossing and Sedona Destination Weddings really and truly wowed us with their uniqueness, consideration, expertise, and good vibes. They really went above and beyond to make our special day magical and even surprising but all in good ways. These good people know what they're doing, are nice and pleasant to work with, very accommodating, and we would work with them again to renew our vows without a doubt. We were so happy that we chose them to help us put together a spiritual and romantic marriage ceremony."  — Samantha A.
Here's a Video Keepsake from one of our weddings at Red Rock Crossing:
Here are more fabulous photos from ceremonies at The Crossing…
"The location we picked was absolutely stunning. We knew how much we loved each other, and wanted to make a commitment to each other, however, we never imagined how powerful the energy at our site would add so much to our ceremony.

We felt the spirit of Red Rock Crossing deep in our souls. The wedding was a magical, spiritual and a deeply soul connecting experience. We loved the vows we picked, with the Apache blessing and pouch ceremony. We both said afterwards that during the pouch blessing we literally felt our hearts (and our families) connect as one!

Our happiness was abundant for all of us to experience!!! We feel blessed and truly overjoyed with our experience in Sedona and are especially thankful to Sedona Destination Weddings for making our dreams come true!"  — Chris and Christine Thorne, Halifax, Nova Scotia, Canada
There are other sites equally beautiful and romantic, but less well known and more off the beaten track. See all our Sedona wedding venues.
Click here to view the Top 5 Sedona red rock wedding sites!