The Marriage of Natural Beauty: The Perfect Backdrop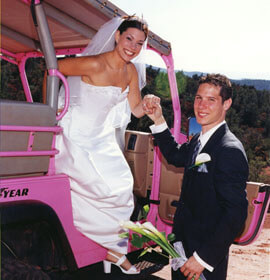 Sedona, Arizona is an increasingly popular spot for a destination wedding in the United States. The majestic beauty of Sedona adds a sacredness to your vows. There's also plenty of romance in the air and lots of activities for you and your guests to enjoy.
What would make your Sedona destination wedding extra special? Some adventure? How about a pink chariot? An open-air ride to your ceremony and reception? May be sweeping red rock views as the backdrop for your nuptials?
Yup. Sedona Destination Weddings has all this to offer you. We'll deliver a wedding you and your guests will remember for a lifetime. Not to mention the fantastic wedding photos you'll have!
Sedona is so geographically gorgeous, that there are quite a few spots to choose from for your outdoor wedding. Each locale has something special to offer, it just depends what you like.
If you are focused on creating that unique experience for you and your guests, a Pink Jeep wedding is a great option. Being outside in nature takes away all the noise and allows everyone to focus on you and your groom and your union.
Sedona Adventure Package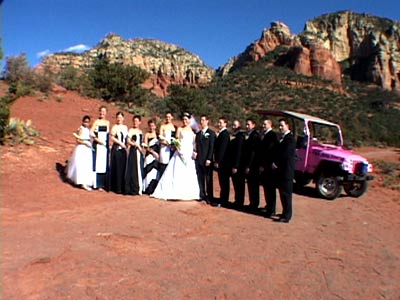 Sedona Destination Weddings has a Pink Jeep option for you —  our Sedona Adventure Package. We've selected Merry-Go-Round rock as the Sedona wedding site. It's an awesome location, perched high atop Schnebly Hill with red rock vistas spreading before you. It's accessed over a very long and bumpy dirt road — this is where the Pink Jeeps come in.
The experience takes two-and-a-half hours. The ride is so worth it, though, once you get to the views.
Pink Jeep journeys out to Merry-Go-Round all the time, so they are well-versed in the way of the trail and have their vehicles set up for the terrain.
Merry-Go-Round is at the top of Schnebly Hill and the magnificent views of the buttes of Schnebley Hill and sweeping views into the valley of Sedona are breathtaking. Many people refer to this as "getting married at the top of the world."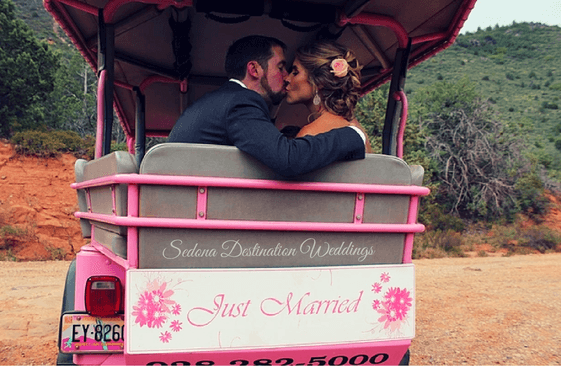 Merry-Go-Round has limited parking and is perfect for elopements and small weddings. And let's not forget that "Just Married" sign they put on the back of the Pink Jeep for your ride down after the ceremony.
Another benefit of this sedona wedding spot is it's secluded location. It's fairly private and while there may be a handful of people enjoying the views and hiking, it's not uncommon to be the only ones there. Perfect for a wedding. Compared to Bell Rock or Red Rock Crossing, Merry-Go-Round rock is a very quiet and private location.
The 360 degree sweeping views make it spectacular and memorable — the way a wedding should be.
Your Wedding Your Way
Sedona Destination Weddings wants to deliver you the wedding of your dreams. If this Merry-Go-Round vision is for you, please contact us to discuss how we can tailor it to the specifications of you and your special someone. We'll even take you out to view the site on a wedding site tour.
Book your Pink chariot Sedona wedding!  We also offer Pink Jeep commitments and vow renewals.