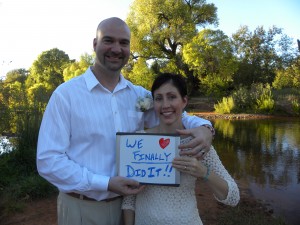 Sedona has so many awesome and breathtakingly beautiful wedding venues. Some are easily accessible while others are accessed by a short hike, a bit of a climb or even a Jeep ride!
Wherever you are the red rocks are magnificent and the vistas provide a fabulous backdrop for your wedding ceremony. The most popular wedding site by far is Red Rock Crossing.
This is located right on Oak Creek with a magnificent view of Cathedral Rock. In fact, this is the second most photographed location in Arizona after the Grand Canyon.
Red Rock Crossing is one of Sedona's vortexes. As a magnetic vortex, the energy here is very feminine and nurturing. It's a wonderful spot to plant the seeds of a new marriage.
This is the easiest access location. Even Grandma and Grandpa can come. We've had many weddings here with guests in wheelchairs.
My favorite time of the day here is early morning–wedding parties before 11 a.m. can be assured of parking. There will be very few people–even in the summer time and weekends. And the light is otherworldly! At that time of the day, we can even capture Cathedral reflected in the waters of Oak Creek.
This is such a popular location, that on 10-10-10 there were 35 weddings at Red Rock Crossing in Sedona–and Sedona Destination Weddings performed seven of them.
There are other sites equally beautiful and romantic, but less well known and more off-the-beaten track. I plan to share them with you in future blogs.
Blessings,
Iala