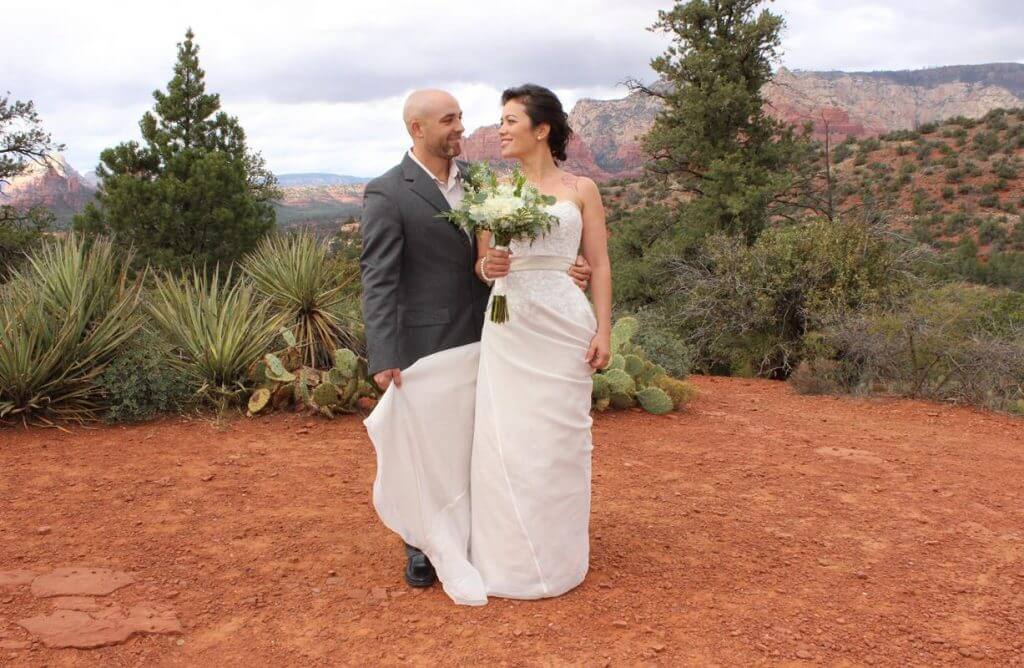 The Huckaby Hollow wedding venue is the start of a trail head a short way up Schnebley Hill. I found this lovely spot that is a natural amphitheater surrounded by gorgeous formations and an incredible vista of all of Sedona spreading out before you.
Imagine your ceremony in the shade of a twisted vortex Juniper on a platform with the red monoliths of Schnebley Hill rising up above you.
There are a lot of pros to this site. You can reach this site with any kind of vehicle, so no need for the expense of renting Jeeps. It is very easy access for all ages.
There is a lot of parking and even a bathroom/change room at the trail head. Huckaby Hollow is quiet and secluded. It's a very memorable and unique location for your Sedona wedding. It's also great for all size weddings.
"We loved our experience with Sedona Destination Weddings. The staff was vey pleasant and easy to work with. We just got married on October 24th at Huckaby Hollow. The views and scenery are spectacular….the photography was gorgeous! We thought the price was right and even a bargain, especially because everything is organized including the photography…big bonus!" –Randi and Jill Coutley
Here's a beautiful video keepsake from a wedding performed at Huckaby Hollow:
And more photos from Huckaby Hollow ceremonies…