"The ceremony was breathtaking and performed with such love, laughter and kindness, truly beautiful. We would recommend Sedona Destination Weddings for any couple wanting a unique, enchanting and spiritual experience." — Candice Deutz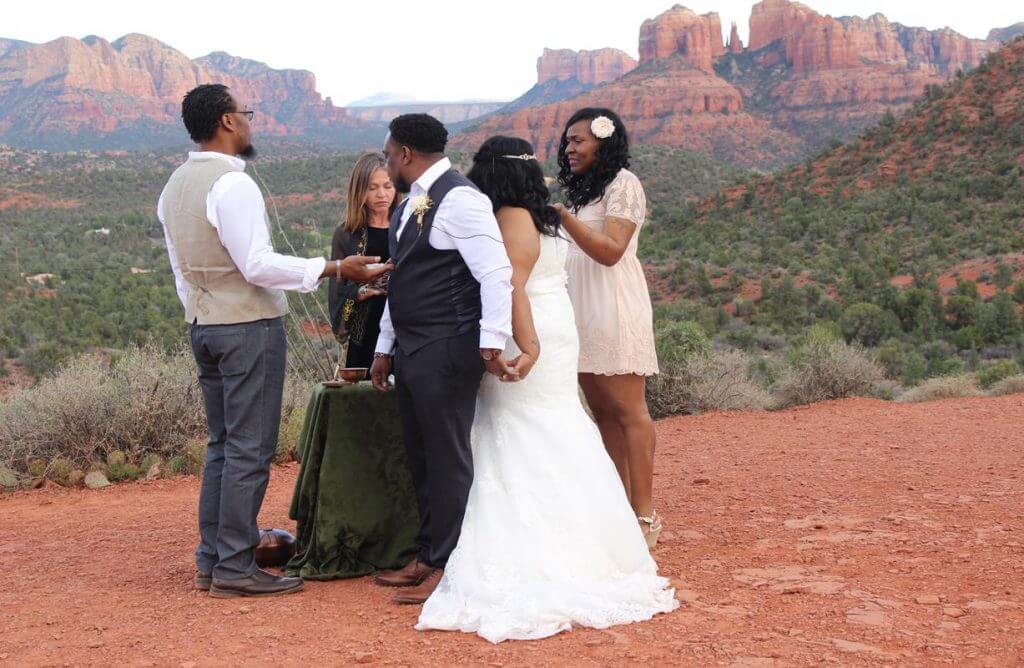 This package is for couples who want a truly spiritual New Age wedding, Sedona style. It is perfect for crystal and indigo children or anyone seeking an authentic vortex experience. The Sedona Crystal Vortex Wedding Package is a true Sedona experience – one that you will find nowhere else on earth!
Your ceremony will take place directly on a vortex site and your minister will use the Sedona vortex energy to cleanse your auras, bless your union and magnify your love in the Universe.
Your very special wedding ceremony includes a Crystal Union Pouch Ceremony with aura clearings and chakra attunement to your spouse-to-be. You will also be gifted a set of chakra crystals and a vial of blessed holy water from Oak Creek and your ceremony.
"We couldn't imagine a better wedding, and want to thank you for making it special! The crystal vortex ceremony at Airport Mesa was so unique and really captured who we are as individuals, celebrated our union, and set us on the path to a great life together. The staff were very laid back and casual, which made us relax and enjoy the experience. We had some good laughs too! The photos that were taken are beautiful, and we are having a great time sharing them with our family. Lastly, a big thanks to Iala for arranging our big day!" –Rachel Binder
Our
Sedona Crystal Vortex

Wedding Package includes:
An ordained, non-denominational New Age celebrant to perform your Crystal New Age Sedona Wedding Ceremony
Consultation by email or phone to customize your vortex wedding ceremony
One of our photographers will take approx 150+ digital photos. You will receive a USB drive of unedited photos in the mail. You can make as many copies as you like. You have 1 hour of photography. All of the beautiful photos on our site and our blog were taken by our talented in-house photographers
Aura cleansing and purification for bride and groom
Chakra Tuning and Alignment Ceremony for bride and groom to attune your chakras to one another
Blessing of your rings in the sacred waters of Oak Creek–the Ganges of America
A vial of the love potion created from the sacred water used in your ceremony. This elixir will carry the vibration of your vows and capture the moment and the great love you are feeling. You can use this elixir to enhance your life together as it will instantly bring you back to the power of your love on this very special day
A Crystal New Age Vortex Ceremony, including:

A Sacred Union Pouch Ceremony. Your Sacred Union Pouch will contain two red rocks infused with the vortex energy and the crystals used in your Chakra Attunement Ceremony. These will become powerful tools in balancing your energies, uniting your spirits and assisting as crystal guardians and counselors for your marriage
A Hapi drum serenade by your Celebrant. This special music filled with spirit and light will imbue your ceremony with a high vibration of joy

Assistance in choosing the perfect red rock wedding location for your Sedona wedding. The Sedona vortex will intensify all aspects of your ceremony. We will use the vortex energy to bless and sanctify your marriage. The vortex will become a place for you to return to on anniversaries to renew and recharge your connection and your vows.
A complimentary Ceremony Planning Packet to help you to be your best on your Special Day, including recommendations for your hair and make-up needs, musicians, limos, hotels, restaurants, videographer and more
Sedona Crystal Vortex Package – $1,499.
Package is for up to 25 people (including bride and groom). For weddings of more than 25 people, please inquire for rates.  (Add a bouquet & boutonniere for $300. )
ADD: All Your Beautiful Moments:

 The Video Slideshow Keepsake – $197
Video Slideshow Keepsake you will receive a unique and professionally edited slideshow of your ceremony that captures the best moments of your special day.
Call us for more details or to reserve your date at (928) 282-0993.
Take a peek at a Video Keepsake of a Crystal Vortex wedding:
Return to All Wedding Packages.