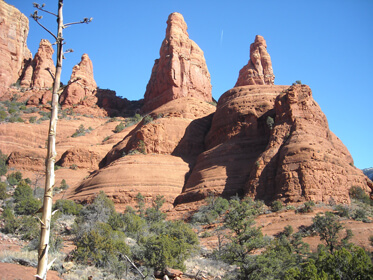 Madonna Rock is a wonderful wedding site. Only a 12-minute hike along the Chapel Trail and you find yourself on a red rock platform with a wall of red rocks rising up behind you, Madonna and the Three Sisters enfolding you, and sweeping vista views of Cathedra Vista before you.
It truly is a breathtakingly spectacular location. The energy here is very nurturing, magnetic and feminine.
Natures own "Chapel Amphitheater," perfect for your Sedona wedding. Parking is very limited, especially on weekends. An additional fee applies for this site.
It's one of the Top Sedona wedding sites as seen on the Sedona Wedding Venues page.