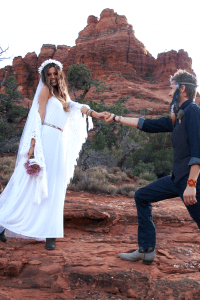 Looking to experience your Sedona Destination Wedding on an iconic rock formation and major vortex center?  If so, our Bell Rock is one of the top Sedona wedding venues and is more than likely the perfect spot for you to get married!
Bell Rock's beauty is undeniable, and it's shape is so inviting. It's kind of like getting married on a giant chocolate kiss — and what could be sweeter than that?
The hike is suitable for most — 5-10 minutes on an even trail, then 2 minutes of path incline. Once your site is reached, the views are incredible. Gazing around, you can see Courthouse Rock, Thunder Mountain, Airport Mesa and even a little slice of Cathedral Rock at Red Rock Crossing. Add in a little late afternoon glow, and WOW.
And if energy is your thing, you can't get more powerful energy on your wedding day than Bell Rock.  Known as the most uplifting of the Sedona energy sites, Bell Rock is the ideal location to send your intentions for your new married life out into the world and universe beyond.
Take a look at some of the wonderful photos taken at this fantastic destination wedding site on our Sedona Destination Weddings website!